PT. BERCA MANDIRI PERKASA provides trained and certified technicians to support the complex needs of customers. they are available during business hours or 24/7 as per contract agreement.
We try to bring all our front lines closer to the location closest to our customers' operations. So, they can quickly respond to customer needs from our 34 branch locations.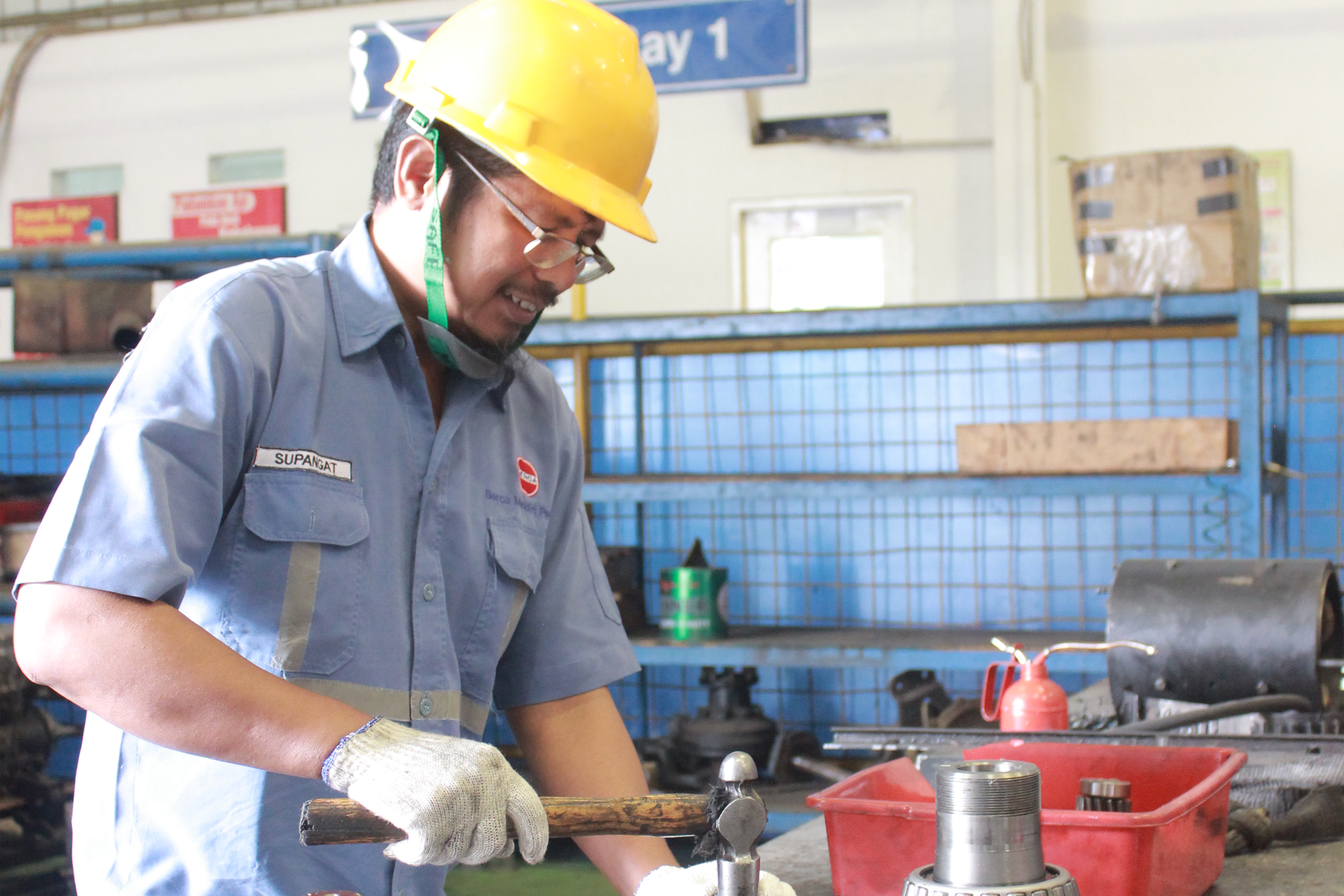 In order to support operational customer on site, we provide the complete solution in customer location. The such support may include but is not limited to;
Onsite service team.
Onsite spare parts team.
Onsite facility (vehicle, tooling and spare parts stock).
Onsite lubricant and consumables.
The list may vary depend on customer agreement.
The program is created so our customers can focus on their core business to achieve maximum productivity. Therefore, we will take care of all aspects of maintaining the heavy equipment that has been invested in. We provide several options for advanced programs within this maintenance contract. These advanced programs can be tailored to meet your specific needs and help you achieve maximum efficiency and productivity in your business operations.
FMC (Full Maintenance Contract). This is the highest level of maintenance contract, where we take full responsibility for all aspects of maintenance including: providing skilled mechanics, fulfilling all spare parts requirements, lubricants, and consumables, as well as including auxiliary equipment.
Repair Contract. This repair contract will provide certainty to our customers regarding all issues related to heavy equipment repairs, including providing recommendations for required spare parts and maintenance advice in accordance with the manufacturer's maintenance guide.
PM (Preventive Maintenance) Contract. To ensure the heavy equipment is always in a ready-to-use condition, we take full responsibility for comprehensive maintenance as per the manufacturer's maintenance guide. This includes providing recommendations for required spare parts, operating advice, and scheduling overhauls or reconditioning for each compartment within this contract.
To further enhance maintenance and repair services both scheduled and unscheduled, we offer several programs carried out at our workshop facility. We aim to provide efficient and effective maintenance and repair services for your heavy equipment, minimizing downtime and optimizing its performance.
Engine Overhaul. These programs are carried out meticulously using equipment that meets factory standards and adheres to all specifications outlined in the service manual. Our goal is to restore the engine's performance to an optimal level, approaching 80% of its original condition.
Component Recondition. To restore the performance of components that have reached their maintenance period, we conduct reconditioning where the replacement of spare parts for these components only covers wear and tear (subject to the heavy equipment following the appropriate factory maintenance procedures).
Machine Refurbishment. This refurbishment program aims to rejuvenate the heavy equipment that has reached its time. We will carefully repair and replace several key components to avoid unnecessary costs.
For customers who have enjoyed our maintenance services and support comfortably during the warranty period, it is still possible to extend the warranty period based on the manufacturer's standards. Please contact our sales and marketing team for all your needs in this regard.
Free Technical Inspection
We fully understand the value of time for our customers. Therefore, we promptly conduct inspections and checks whenever there is a critical need for repair of heavy equipment during operations. This program applies to equipment that has surpassed the warranty period, and customers are bound by the maintenance contract agreement. During the warranty period, such responsibilities are already under our full obligation.